Maybelline Fit Me Now in the Philippines! (with COMPLETE SWATCHES + VLOG )
You asked for it and now you can have it! Starting June 2017, Filipinas can now place their hands on the most asked-for foundation from Maybelline New York as FitMe! FINALLY arrives in the Philippines. Last week the Maybelline Squad and media folks were invited to the launch. We were so excited with the swatching and makeover sessions because finally! A shade for every Filipina! Do watch the VLOG!
VLOG SWATCHES AND PHOTOS Below. READ MY FULL REVIEW HERE
Maybelline Fit Me Philippine Launch VLOG
If you are always trying to find the perfect fit but end up settling for the closest shade to 'match' your skin tone, settle no more! Find the perfect one for you as Maybelline brings in here FitMe! Matte + Poreless line which offers a wide range of shades that goes beyond matching skin tone but also fits skin's texture: your skin the way it is meant to be- fresh, breathing, and flawless.
 "Most of the time, Filipinas are offered only about four foundation shades to choose from, which makes it a real challenge to find their perfect shade. As Fit Me comes in 10 shades to choose from, Filipinas can finally easily find their FIT. What is even more exciting is that the Fit Me line that we're bringing in here offers a MATTE + PORELESS finish, which is suitable for the Filipina skin." says Bianca Sing, Jr. Product Manager for Maybelline.
Fit Me is available in 4 different formats – the FitMe! Matte+Poreless Liquid Foundation, the FitMe! Foundation Stick, the FitMe! Pressed Powder, and the FitMe! Concealer. All of them are perfect for oily skin.
Maybelline Fit Me
The FitMe! Matte+Poreless Liquid Foundation fits skin tone and texture. Leaving a natural and seamless finish, this certified US Bestseller is definitely a must have.
Matte + Poreless
Blurs pores and Controls Shine
Easily Blendable
Comes in 10 shades
Ideal for normal to oily skin
SRP- P399
The FitMe! Stick Foundation is Maybelline's 1st powder foundation in a stick. This oil absorbing stick goes on creamy and blends into a natural matte looking finish. It has an exclusive anti-shine powder core that instantly dissolves excess oil.Mattifying powder in a Stick
Easy to use, 2 Step: Swipe and Blend
Prefect for On-The-Go
Comes in 8 shades
Ideal for normal to oily skin
SRP- P399
The FitMe! Pressed Powder is the brand's first-ever mattifying powder that fits the skin tone and texture. Perfect for touch-ups, it offers a  poreless looking finish with shine control
Matte + Poreless
Contains blurring micro-powders that blur pores
Controls shine
Comes in 8 shades
Ideal for normal to oily skin
SRP- P399
Say goodbye to dark circles, pimples, and dark spots in an instant! Fit Me Concealer gives you that natural coverage for zero flaws and blemishes.
Natural coverage
Fits Filipina Skin
Easily Blendable
Comes in 4 shades
SRP- P199
Maybelline Fit Me Liquid Foundation Swatch
Foundation Swatch Source: http://blushingnoir.com/wp-content/uploads/2016/08/Maybelline-FIT-Me-Matte-Poreless-foundation-swatches-review-swatch-pics-.jpg
Maybelline Fit Me Concealer Swatch
Concealer Swatch Source: http://www.heartbowsmakeup.com/wp-content/uploads/2016/01/New-Maybelline-Fit-Me-Concealers-Review-Swatches-Price-India.jpg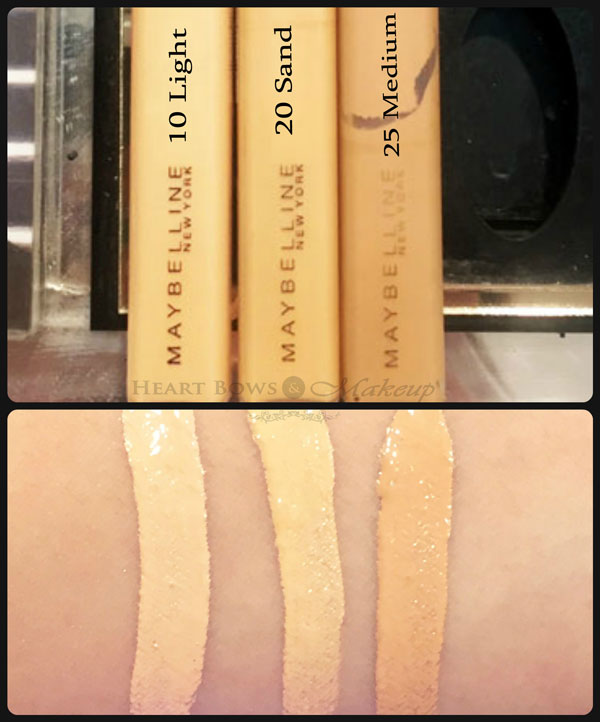 Products are available in Maybelline counters nationwide and online over at Lazada:(http://www.lazada.com.ph/maybellineonline). For more information about Maybelline, please visit www.facebook.com/MaybellinePhilippines.